Join Barb Crompton for an 8 week season
Fridays, June 29th to August 17th
Come to one or both classes each week.
QUIET RESTORATIVE YOGA 8:00am. A refreshing, rejuvenating class lying on your back or stomach using props(the wall, straps and blocks) to assist in stretching tight muscles, relieving back discomfort, opening your shoulders for good posture and breathing into total relaxation. This class is perfect for beginners, tight bodies and athletes who want to release tension and become more supple.
MELLOW HATHA 9:30am A soft classical hatha class, with options/chooses/variations for beginners to well seasoned yogis incorporating sitting, standing and lying poses. This class will improve your balance and coordination, enhance your strength, promote flexible muscles and mobile joints and create a quieter more tranquil mind.
$80.00 for the season (one or both classes) Friday June 29 to August 17 $15.00 drop in
---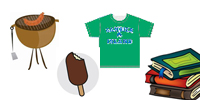 Bookstore Opening, Sunday, July 15th, 1-3
Books, t-shirts, frozen goodies, BBQ hotdogs and more.
For more info, phone Louise at 604-886-4811 or email rj.potter1@hotmail.com
---
Summer Fair
Saturday, August 4, 2018

---
Island Clean-up
Saturday, July 7th, Gambier Flag Stop
Saturday, August 25th, New Brighton, Gambier
---
Salute to Summer Dance
Sunday, September 2, 2018, 12-4:00